Entries in Future Thinking (3)
12-1-2011
Oriel Chambers by Peter Ellis 1864
We, as architects, have been told that there are potential technologies that allow us to leverage our knowledge, design process, team, and intelligence. Two articles (1, 2) recently published at AN make a confounding pair to read. The articles make two problems readily apparent: Architecture practice doesn't have the time or resources to focus on leveraging the information they create and second, architecture is secondary to the business of building.
In 1901 FLW read that "Today we have a Scientist or an Inventor in the place of a Shakespear or a Dante." While the technicians of digital design have been crowing about their machines for years, rarely do we see them utilized in an architecture practice. There are a growing number of consultants who are in the position to devote their time to elaborate the design information between the design and construction team. At the heart of the matter is a conundrum, many in the design profession have recognized that the profession of architecture resists taking on more risk (see article 2 mentioned above) firms like Shop are the rare example.
In fact the architecture of yesterday used new technology to achieve it's effects far more regularly. Oriel Chambers is an excellent example of this concept. In a time when the architect was at the heart of the construction process (The Harvard Design Magazine had an incredible article on the office's of 19th C architects in all cases the estimating, engineering and construction team shared the same space) Ellis was able to utilize completely new fabrication, installation technology and materials to achieve a piece of architecture that pushed the discussion of building and design forward. It may not be the lightest curtain wall (Gropius) but it may be just the first in what has become a dominant technology in the industry of architecture. I find myself asking, has a generation missed the forest for the trees. The ethos of the arts and crafts movement was not just the creation of art (architecture included) but the the goal was to integrate the emerging technologies of the day into a new kind of practice.
If anything there must be an increased appetite for projects and risk. The comments from the second article are not only entertaining they are scary. Suffice it to say that architects, may be good at selling the dream of their design ability, they seem to do a less convincing job leveraging the value that they truly could bring to a project. If the profession spent less time navel gazing and more time creatively focusing their energies on understanding and implementing the technologies they use and build, architects have an opportunity to sit at the table. Isn't that where we want to be?
tagged
Future Thinking,
Technology,
architecture
in
Architecture
02-25-2011
Dow Corning has produced a vision of the future that is tactile, albeit cold to the touch. What we find remarkable is that Dow's version of the future seems to be the outcome of a historical narrative from science fiction; and a vision that has been around for almost forty years.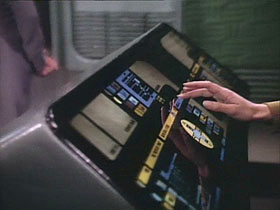 Stanley Kubrick's 2001: A Space Odyssey is our first memory of an intelligent surface. Maybe it shouldn't be a surprise that, as the whole earth catalog is describing a cybernetic revolution, plastics become part of they everyday and archigram is drawing a haptic architecture of technology, Kubric links the physical touch of a human to the absolute limit of digital technology, the screen. Eventually even that touch will become unnessary as in Minority Report below, were Tom Cruise navigates what may be thin film or thin air with a range of physical movements.
However, the application of moving images to the exterior is still a projected and imperfect science. It is more artware than hardware. Take Vimeo's October festival in New York:
Gehry's IAC building is both digital canvas and performative skin literally extruding and beding from the building's contorted surface. This is an architecture and design method of technology. While it might feel like hacking the skin of a building, we think it's just an elaborate pimping of that surface. We're hoping for a hacked building soon. One where the skin itself isn't just a representation of information or imagery but is the display itself.
andrew
|
Post a Comment
|
tagged
Building Skin,
Future Thinking,
Glass,
Hacking,
Media,
Pimping
in
Architecture
03-26-2009
Over dinner this evening an interesting conversation broke out over the current state of architecture. The discussants broke it down into to categories: the perfectionists and the reflectionists. Perfectionist architects are those who, as Mies said, "would rather be good than interesting," and reflectionists might be overly concerned with style, as Corubsier said "our own epoch is determining, day by day, its own style. Our eyes, unhappily, are unable yet to discern it." Here modernism's two great architectural patriarchs (one less concerned with his public image, the other always concerned with his public image) provide the continuum to our "Starchitects," be they as well defined.
The conversation about the two dichotomies began with a discussion of the idiosyncrasy of each architects iconic house: Farnesworth vs. Villa Stein. Farnsworth is minimal. Nothing but planes of white painted steel, mullionless glass travertine floor and warm wood cabinets constitute a house that is focused on minimizing any "styling" to become dated. The house represents a locus of Mies' work. It is a balanced brilliant essay on the body in nature, and the reduction of any extraneous detail that leaves its visual mark on the building. These two things give the Farnesworth house a sense of existing without styling, arguably it is this the act of reduction in detail and form that makes this small house continually modern and never Mode-rn.
Villa Stein on the other hand is caught up in the visage of modernity. It's concerned with its modern appearance, not its modern technique. The wooden mullions are painted to look like steel, its strip windows emphasized by the heaviness of the proportion of the facade. The canonical image emphasizing its modernity versus the seemingly antiquated contemporary car in the foreground. Its design focused on the development of the parti and section rather material and detail.
Do these two buildings alone begin to set the stage for the discourse that architects are embroiled in today? Form versus content, detail versus concept, material versus graphic? These are not necessarily polarizing points, but in many ways they are illustrative of the major discussions today.
Lastly, at dinner there was the statement that the world is tired of master planning and manifestos. In the words of one of Chicago's greatest architects ""Make no little plans. They have no magic to stir men's blood and probably will not themselves be realized." As architects there is a general need to develop an attitude. Today we must become good not interesting. We should develop an attitude to process, practice and business. While interesting might get you noticed good will get you remembered and returned to.