Entries in Hacking (2)
02-25-2011
Dow Corning has produced a vision of the future that is tactile, albeit cold to the touch. What we find remarkable is that Dow's version of the future seems to be the outcome of a historical narrative from science fiction; and a vision that has been around for almost forty years.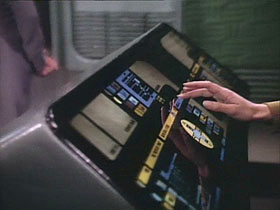 Stanley Kubrick's 2001: A Space Odyssey is our first memory of an intelligent surface. Maybe it shouldn't be a surprise that, as the whole earth catalog is describing a cybernetic revolution, plastics become part of they everyday and archigram is drawing a haptic architecture of technology, Kubric links the physical touch of a human to the absolute limit of digital technology, the screen. Eventually even that touch will become unnessary as in Minority Report below, were Tom Cruise navigates what may be thin film or thin air with a range of physical movements.
However, the application of moving images to the exterior is still a projected and imperfect science. It is more artware than hardware. Take Vimeo's October festival in New York:
Gehry's IAC building is both digital canvas and performative skin literally extruding and beding from the building's contorted surface. This is an architecture and design method of technology. While it might feel like hacking the skin of a building, we think it's just an elaborate pimping of that surface. We're hoping for a hacked building soon. One where the skin itself isn't just a representation of information or imagery but is the display itself.
andrew
|
Post a Comment
|
tagged
Building Skin,
Future Thinking,
Glass,
Hacking,
Media,
Pimping
in
Architecture
01-12-2011
Hack or Pimp?To hack (as in hacking code) is to piece together something useful from pre-existing material. The results are most often inelegant, but always effective: use value is the point of hacking. As such, it is complementary to the definition of words like ad hoc and especially, bricolage, or "construction using whatever was available at the time."
To pimp, (as in "pimp my ride") is really just an evolution of the verb "trick", or "trick-out", popular in hot-rod culture dating back to the 1950's, if not before. The fact that both terms have alternate connotations related to the sex trade is a clue that they have more to do with aesthetic flourish (social/cultural value) than with the sort of functional/use-value of 'hacking.' At a practical level, however, pimping is similar to hacking because it always involves customizing or modifying a more standard host object. Therefore, a factory car that is "loaded with 'custom' options", is not properly "pimped," since options offered by the factory are only psuedo-custom at best. Customization is a one-off, aftermarket activity in the context of of mass production.
Or is it? Next post: what is the relevance 'hacking' and 'pimping' for architecture, its culture and the building industry at large?
tom
|
Post a Comment
|
tagged
Customization,
Hacking,
Pimping,
ad hoc,
bricolage,
tricked-out
in
Technology